2018 Arbor Day Tree Planting Ceremony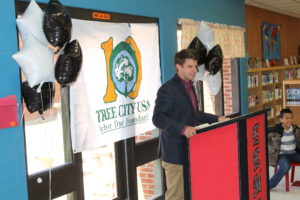 Lisa Childers, County Extension Director, and Jason Weathington, Extension agent, participated in the 2018 Cumberland County Arbor Day Celebration with students of E.E. Miller Elementary School in Cumberland County on March 15, 2018.
The Arbor Day Tree Planting Ceremony celebrates trees and the many benefits that trees provide. The tradition of setting aside a special day for planting trees dates back to 1872.
For the past 16 years, Fayetteville, NC has been designated as a Tree City USA. To maintain its designation as a Tree City USA, Fayetteville must meet four criteria each year: it must have a public tree ordinance, it must have a Tree Board, it must support a forestry program with an annual budget of at least $2 per capita, and it must support an annual Arbor Day observance.
The 2018 ceremony was sponsored by the City-County Joint Appearance Commission, the Cumberland County Cooperative Extension, the Cumberland County Schools, the Fayetteville-Cumberland Parks and Recreation Department and the NC Forest Service.